First Snowflakes for the First Timers
Written by Chrisele Pedir Denum
As an international student here in Canada, other than the excitement to meet new people and explore the wonders of the country, there is nothing that excites me more than seeing and experiencing snow for the first time. Ever since I was a kid, I have always wondered what snow would feel like. After spending 19 years of my life living in tropical country with a hot, humid and wet climate, in 2019, I was lucky enough to have finally kissed snowflakes.
I came to Canada in September of 2018, and I was keen on experiencing my very first white Christmas, but it did not happen. Time passed by so fast and I was already losing hope to see there white flakes falling down from the sky. Then one lucky morning in early February, I woke up from a knock on my window. I did not hear a voice outside, just a knock. I immediately went to open my window, and to my surprise it was already snowing! It was my great-uncle knocking to let me know because he knew how excited I would be to see them for the first time.
I was astounded, surprised, stunned-a bundle of emotions. I couldn't contain my excitement. I put on my thick jacket, black toque and mittens (I had them in my closet for a long time, waiting to be used LOL). I also put on my boots and headed outside. Small little flurries of flakes were falling and touching my face. It was like magic to see this beautiful creation; it was like what I've seen in movies.
It was a blissful experience, and I know I was not the only one who enjoyed my first snow. I immediately contacted my friends from school to share how beautiful the snow is. I asked them how their first snow in Canada felt like. This is what they have to say.
"Snow is like a magical creation of God', no matter how old you are enjoying things could  still be new if you were believe in god's creation. Every falling flake gave happiness and excitement to my heart and soul. Snow is cold but beautiful." – Colynne Concepcion, Philippines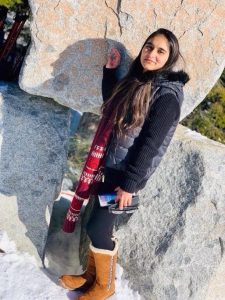 "It's a very good experience to see snow for the first time because we don't experience this kind of season in Punjab. We are very grateful for this. I enjoyed it a lot and I even went to Cypress Mountain with my friends." – Lovedeep Kaur, India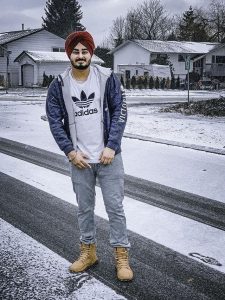 "[Seeing snow for the first time] was an awesome feeling. I had seen snow just in fairy tales, in Disney animated movies, but seein and feeling it when it falls on your nose and  face, it gives this pleasing sensation. All the streets houses seems to be turned into snowland. It was so beautiful and amazing." – Harpreet Singh, India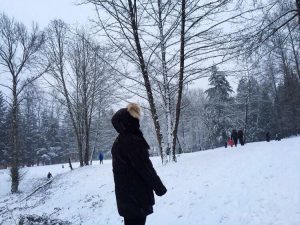 "Actually, this is my first time to see snow! It makes me feel like I am living in the world of fairy tales. I was deeply shocked by the beauty of the snow and it became an unforgettable memory in my life!" – Chen Jia Chun, China
"My sister and I moved here to Vancouver, Canada 2 years ago to study. Back in my Ghana we only have two seasons which is the rainy season and the dry season and experiencing snow here for the first time was very exciting because I had only seen it in movies and couldn't wait to see it and experience it. Even tho there are some bad sides to the snow I really enjoy it anytime it. One thing I really love about the snow is how it beautifies the environment." – Kuukua Ghansah, Ghana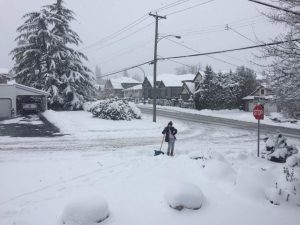 Snow is truly magical and majestic! But be sure to dress warm, cover your head and ears, and don't to forget to do shoveling for other people walking by!