Tips on Writing a Research Paper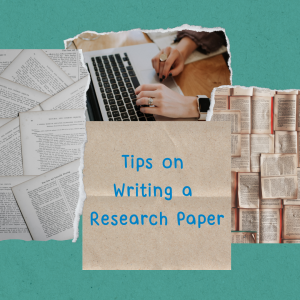 If you are a post-secondary institution's student, technical writing is probably no longer unfamiliar to you. From choosing your interested topic to conducting research and building critical perspectives then putting those ideas into words, it takes time to finish off the writing while feeling accomplished. It can be a difficult task for some students, and we feel you!
To save you some time while being more proficient in writing, below are a few tips you can apply:
Have a solid understanding of the assignment and your audience.
Critical reading of assignments requires students to understand all the bits and pieces of the tasks' requirements/ questions. Before starting your research and/or your writing, it is important to view the given information and questions carefully. The assignment's request is usually straight-forward, does not contain any hidden meanings, and students can simply find the answers from the class materials and external resources. In addition, it is advised to take a look at all the marking criteria before putting your pen down; some may ignore this. There is a need to start noticing the criteria for a chance to gain better grades.
Once you have a better understanding of the assignment, it is time to consider your research purpose and audiences. The purpose of the research should answer questions that you and, perhaps, others have about the world. This is a valuable opportunity for you to learn more about the field while creating a research mindset. Next is defining your targeted audiences. Try to position yourselves in others' position so it can help you write the piece in an interesting way that will speak to them. Once you demonstrate a firm grasp of your topic and audience comprehension, the act of gathering research resources will be much easier.
        2. Brainstorming and make a preliminary outline.
Brainstorm is a process that allows you to withhold criticism based on internal and external sources and unique perspectives on the issue, and combine and improve ideas to find innovative solutions. If you consider yourselves as a visual thinker, brainstorming is definitely an effective process when you organize your thoughts.
Once your brainstorming section ends, it is time to create an outline. Creating an online is equaled to the ability to deliberate the course materials and concepts through recalling a range of ideas from the readings and instructional materials and putting those extensive quotes and your critical thoughts into argumentative points. All the steps include gathering your resources and compiling the numerical data, if applicable, bringing together different views so you can evaluate the subject in an objective manner, and organizing those in a logical order. Please note that a strong paper needs an impactful introduction, especially for thesis statements, cohesive body paragraphs with diverse supporting studies, and a call to action.
A good thesis statement should state your point of view on the topic directly and specifically. As it takes some sort of stand in your research paper, it is important to justify your claims solidly while anticipating the counterarguments. Body paragraphs should contain crucial main points that support your thesis claim, developed evidence that supplements each main point, and logical transitions between paragraphs to assure smooth reading. Finally, a call to action is a great way to end your writing on a positive note. It is essential to create a sense of urgency and ask your audiences to take the initiative to act so your purposed solutions can be considered as valuable.
The more detailed your outline is, the less time you may have to spend when creating the draft.
Create a draft and cite your sources.
In the introduction, you let readers know where they are headed. In the body paragraphs, you will break down your research into smaller parts. Each section requires you to integrate ideas through presenting detailed facts and cited quotations at both paragraph and sentence level. In the conclusion, you sum up your main points, purpose solutions, and restate the thesis statement so your paper can be concluded comprehensively. As long as you maintain consistency in communicating the importance of the subject matter and your ideas throughout the paper, it can be considered a cogent piece.
A few tips you may want to keep in mind while creating the draft: do not forget your own language and style and do not be afraid to deviate from your plan. It is true that your paper needs to sound professional, but it also needs to express your critical perspectives uniquely. In addition, if you cannot use the purposed ideas, that is fine. Sometimes, the planned ones may not work when they are put together.
Your last few pages should be dedicated for bibliography. Some of the most common citation styles are MLA, APA, Chicago, etc. Students tend to forget the need to include bibliography at the end of their writing. It is important to remind yourselves to give credit to authors whose work you have consulted and make your viewers aware of those resources and follow up to learn more if interested.
Revise, revise, revise.
Polishing your research is as important as composing it. The more you revise, the smoother the written flow will be. Proofread and edit to find the fine-tune in your writing. Also, make sure all the findings and argumentative details have been highlighted. As long as your claims are well supported and sound logical, it can be considered as a completed paper.
Once you find the joy in writing, conducting research can be seen as a great opportunity to explore and gain deeper understanding of the topic of your choice. The art of a good research paper relies on your intellect, curiosity, observation, and critical thinking.
Visit our Writing & Learning Centre to seek help on how to write a strong paper and/or extra tips on ways to back up your thesis effectively.