Myths & Facts of In-Person and Remote Learning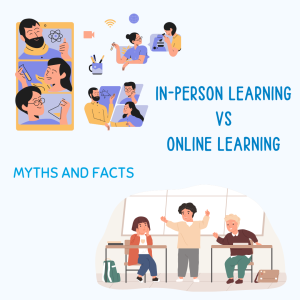 The dynamic of the academic environment has changed significantly during the past few years. The domination of in-person learning has been switched to remote learning during the pandemic. As of now, the school operates its educational system following a hybrid model – offers both in-person and online courses.
Assumptions regarding in-person and remote learning appear all over the internet, therefore, students are having a hard time identifying which one to believe and making the most suitable decisions. Hope the below context will help you gain better understandings of both the asynchronous and synchronous learning:
Synchronous learning (traditional classroom model):
In-person courses help students to remember the materials better
Everyone is different when it comes to study methods. Some can remember information when they are put into a silent and focused environment. Some prefer to consume information in a space with some background noises, like background music or the sounds from people's movement. Based on the learning preferences, you will know whether the act of consuming in-person or online courses works best for you.
If you do not know which type of learner you are, you have the option to select and attend some in-person and online courses. After a few months consuming the materials, you will eventually know your preferred one.
Everyone has their own learning methods. It is important to find the most suitable ones so they can help you to be in the right mental zone for studying.
It can be hard to listen and/or view the instructors' lectures if students sit at the back
All Coquitlam College students have the choice to sit at any seats in the classroom as long as they feel comfortable and be able to consume the materials effectively. The school understands the common sense that "first comes first serves". If your preferred seat has been taken and you have to sit at the back, do not feel worried or afraid of struggling to listen and/or view the lecture. Teachers usually move around the classroom so students can hear their voices from various seats. In addition, when the instructors start their teaching section, all the students will remain in silence, unless they have any questions and/or want to make comments. Thus, most of the time, students will not have any issues.
If you have any problems regarding listening to or reading the materials from a certain distance, please raise your concerns and our teachers will be happy to assist you.
When the person is not feeling okay due to health concerns or personal problems and decide to not attend the classes, they will lose their participation grade.
Our teachers are caring people so they understand that unfortunate things can happen. If you are not feeling well, please stay home and get some rest, and also, for the safety of others. As long as you have the doctor's note, your current participation grade will remain the same. If some urgent personal problems prevent you from attending classes, please let your instructors know as soon as possible and they will work with you to make according decisions regarding the matter.
Asynchronous learning (e-learning):
You have to be good with computers to take online courses
Online learning environment is becoming increasingly available for learners in these recent years. This learning model works effectively for tech-savvy students, especially when some even write code for a living; however, for others, basic online interaction can be considered as alienated steps. Our teachers understand their students' struggles. Hence, at Coquitlam College, accessible and user-friendly online courses are designed with the purpose of promoting knowledge consumption. That being said, e-learning requires no special technical skills.
Online students do not have many opportunities to interact with their teachers
At Coquitlam College, we make sure every student has the opportunity to have valuable conversation with their instructors, regardless the classes are conducted online or offline. Within the online setting, instructors have the flexibility to join in via the classes' chat box or the break-out groups' discussion, or even offer office hours for students who need personal guidance.
Online classes are easier
The line to differentiate between the level of easy and difficult, sometimes, can be very vague. From this person's perspectives, e-learning can be considered as easy because they are good at consuming knowledge via online platforms. Whereas, others may have a difficult time consuming online materials but find them easier when attending in-person classes. Similar to the first myth of in-person learning, it depends on the person's learning experience and points of view. If you haven't taken any online classes, you can consider ones' sharing as a reference but do not place your trust in too much as their words may carry bias.
A friendly note, having an opportunity to do take-home exams does not mean the level of easiness will be increased. As this type of tests usually allow students to have more time to complete, compared to the usual, instructors will have more expectations and the grading criteria will be slightly different.
At Coquitlam College, we offer both asynchronous and synchronous classes so our students' ongoing learning process can be supported to the fullest. Whether you decide to take in-person or online classes or both, we hope all our students can adopt the routine of consuming the lecture materials, viewing the readings, revising the content and studying for the exams in a proper learning space. An investment in knowledge is an investment in your growth.
All educational and community services are available for every student, regardless of being full-time or part-time student and international or domestic student. Visit Coquitlam College – High Quality Private Education