Say "Yes" to These Podcasts if You are Looking for Mental Health Resources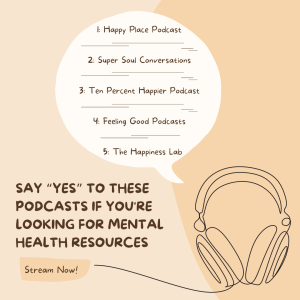 The period of final exam is around the corner. This is usually when students feel depressed, or some even suffer from poor dieting and terrible sleep habits. It is unfortunate and we feel you. You are not alone!
To support your mental health and nurture the practice of self-care, tuning into a podcast can be a great way. This type of audio entertainment helps promote emotional wellness, find like-minded communities, and perhaps, even discover something new.
Here are the top 5 recommended podcasts that will improve your psychological well-being in long run:
Are you looking for happiness, even from small aspects in life? If the answer is yes, this podcast is made for you.
With busy lives filled with school and work, it is common for you to see yourselves feeling lost and struggling to stay connect to the present moment. And, that is okay. "Happy Place Podcast" is here for all in-needed listeners. Words after words, the podcast strives to reveal what happiness means, help you define your own happiness, and beyond that, remind you that you matter.
If you are the type of person who is into podcasts that address big questions in life, Oprah Winfrey's – the well-known talk show host – podcast can be a great choice. With the participation of inspiring leaders, authors and spiritual figures from around the world, Super Soul Conversations seeks to explore various of subject matters, awake the mainstream's awareness and invite them to make deeper connection with the world.
Standing from both as an insider's and outsider's perspectives, this unique one-on-one conversation will be the guiding light to all your curiosity about life. Tune in and listen to bring yourselves one step closer to your own better version.
Happiness is a skill you can train – Dan Harris.
Looking for an audio entertainment that can be your healing medicine? This podcast series is the one. Audiences will have the opportunities to experience various levels of thought and feeling experiments. They are great helps for you to shift the relationship to your thoughts positively and navigate all the highs of praise and the lows of blame. Plug your headphone/earphone, listen to all the meditative concepts with gratitude and embrace the mindfulness practices.
Especially catering to individuals who have great interest in science, "Feeling Good Podcasts" covers a diverse amount of topics and scientific practices that assist you in grounding yourselves effectively and developing greater joy in life. If you are hoping to unwrap all the advanced secrets, including how to nurture the spirit of "joyful failure" or "learning through failure," this podcast series will be right up your alley.
Said from its branding name – The Happiness Lab, Dr. Laurie Santos, Yale University's Professor, introduces to the public the concept of authentic happiness through using user-friendly scientific words. For example, tips and tricks on how we can all derive more happiness from eating ice cream or watching the sunsets.
With her storytelling, she has changed the lives of many people, and she will change yours, as well. Want to stay away from emotional burnout, be happier and more resilient? Pay a visit and find your own jar of happiness.
BONUS: Here2Talk
Functioning as an app specialized in mental health support, Here2Talk is available for every BC's student, including full-time and part-time students and domestic and international students. It offers free and confidential services, therefore, whenever you seek for help, the app is there to assist you.
Being a student is not easy. Intense exams, endless assignments and other personal commitments can all lead to various levels of stress. Thus, it is important to be kind to yourselves. Always remember to ask "how your heart is doing?", accept who you are, even when you are in your most vulnerable state, and be aware of your own capabilities and worth.