Making Goals and Keeping Them
Did you know that less than 10% of individuals that make New Year's Resolution goals keep them?
It's easy to make personal goals once the new year celebrations have ended. A new year means a new you! It's a way to do something different this time around. But how do you keep your goals while avoiding the desire to abandon it?
First, decide on a goal that works for yourself. A goal should be personal and one that you're interested in accomplishing rather than one that someone chooses for you.
Once you have decided on a goal that interests you, try breaking them down into SMART goals. (Specific, Measurable, Achievable, Realistic and Time-based)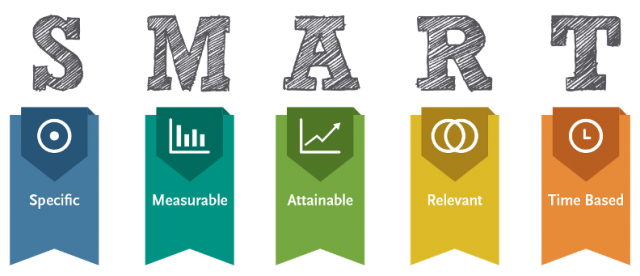 Create personal goals that are specific and can be feasibly attained instead of ones that are general and without a plan. For instance, if your goal is to read more in order, try to identify what you want to accomplish with this goal, and specify a book title and/or genre to read for each month. By breaking personal goals down, it helps to make the goal easier to accomplish and can help to keep you on track to what you want to accomplish.
Once you have created a goal, tell a friend or family member about them. By doing so, you increase the likelihood to stick with your goal.
When you have created your goal, start planning on how to begin. Do some research into how to get into your goal and each step of it. This can help to increase your interest and After you begin, keep going. If you are having difficulties, think of a new way to continue moving forward. Having more than one way to reach your goals will make it more likely to succeed.
Sticking to your goals can seem daunting, but with the right motivation and planning, anyone can achieve their goals.